Services
Holy Communion is celebrated every Sunday at 7:30, 8:30, and 11:00 a.m. The 7:30 service (which lasts a half hour) is entirely spoken and has some of the character of a "house communion." The other two services are identical, except that the choir ordinarily sings at the 11:00 service.
See the congregation's calendar for times of special services such as those of Lent and Holy Week: Midweek services, Maundy Thursday, Good Friday, and Easter Vigil on Saturday evening.
Evening Prayer, at 6:30 p.m. on Wednesdays, is a spoken service about fifteen minutes long which follows the order once known as vespers.
During the summer, from Memorial Day weekend through late August, worship is at 7:30 and 9:30 a.m.
Communion is open to all our Christian visitors, regardless of whether they come from a Lutheran church home. Lutherans traditionally invite children to commune only after a period of instruction, which takes place in the 2nd grade. Until then, they may indicate their wish to receive a blessing by crossing their arms over their chest ("St. Andrew's Cross").
Children are welcome in church. We provide church bags with activities to engage younger children; these are to be found in the hallway behind the sanctuary. There is a nursery for the very youngest children. Children 3-5 are invited to leave the sanctuary after the children's sermon to go downstairs for an enrichment time (about 20 minutes) before returning to the service.
Nursery
Bethlehem's nursery is open during worship services and education hour. It is staffed by paid childcare providers who will lovingly care for your infant or toddler, through the age of three.
Music
Bethlehem has long cherished the tradition of using fine music in our worship–with congregational singing, choir, organ, and other instruments. The choir welcomes you to participate. Choir normally holds practices twice a week (Wednesday evening at 7:00, and Sunday morning at 9:30) and performs at the 11:00 service.
WHAT CHILD IS THIS:
Art
The English Gothic sanctuary is adorned with many works of art, mostly locally made by former pastor Don Elder and members of the church. Note especially the large array of hand-painted shields mounted on the ceiling, the altar's triptych, the banners and altar cloths, and the stained-glass windows.
Summer Schedule
During the summer, we have two services, at 7:30 and 9:30am. Both services offer Holy Communion, and all are welcome.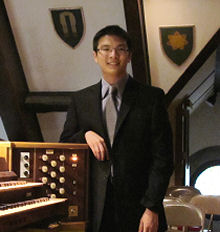 A native of Austin, Texas, Peter Rogahn enjoys an active career as an organist, pianist, choral conductor, and teacher. Already as a child Peter displayed an extraordinary interest in the organ. He began lessons at the age of 14 with Harold Rutz of Concordia University in Austin, and served as organist for several churches in the Texas area.
During his senior year in college, Peter won the annual Senior Honors Concerto Competition and performed Samuel Barber's Toccata Festiva with the Concordia College Orchestra. In addition to receiving 2nd prize at the Twin Cities American Guild of Organists scholarship competition in 2005, Peter also received first prize ratings from the Texas Federation of Music Clubs State Festivals in organ and hymn playing from 2000-2003. He has performed recitals throughout the Texas and Midwest regions.
Peter holds a Performer Diploma and a Master of Music degree from Indiana University where he studied with Christopher Young.  He received his Bachelor of Music degree from Concordia College where he studied with Peter Nygaard.