Marcus Paul Bach Felde, D.Min., Ph.D.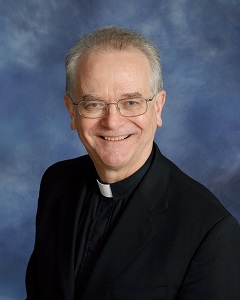 After graduating from Seminex in St. Louis, Missouri, Pastor Felde was a missionary for seven years at Lake Kopiago in the highlands of Papua New Guinea.
He was then pastor of Christus Victor in Terre Haute, Indiana. While there he earned the degree Doctor of Ministry from the Lutheran School of Theology at Chicago.
He continued his studies and earned a Ph.D. in Theology in 1995 from the Divinity School of the University of Chicago. From 1990-1996 he served as Dean of Studies at Martin Luther Seminary in Papua New Guinea. From 1997-2007 he was pastor of St. Paul Lutheran Church in Olean, in rural southeastern Indiana.
Pastor Felde has published articles and book reviews in several journals. Most recently, he wrote "The Lord's Prayer: Who Could Ask for Anything More?" for the Winter 2015 issue of Word and World. He was a member of the Lutheran World Federation Worship and Culture Study Team from 1993-1997, attending meetings in Geneva, Hong Kong, Nairobi, and Chicago. He is among the regular authors of text studies for preachers available at www.crossings.org and has also contributed to the Augsburg Fortress resource Sundays and Seasons: Preaching.
Pastor Felde married Christine Susan in 1973. T
hey have four children–Linnea Webb, Martha Paschke, Eric Felde, and Kara Koschmann–and nine grandchildren–Hannah, Elijah, Evelyn, Emma, Isaiah, Lucy, Ellie, Kate, and Matilda.
Pastor Felde has a particular interest in Lutheran theology and in hymnody. In spare time he plays violin, watches movies, and studies the family tree.
For more details about Pastor Felde, see his LinkedIn profile.