Pastor Marcus Felde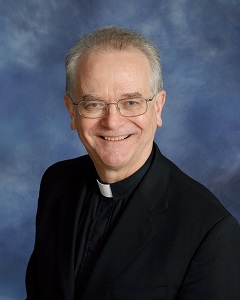 Pastor Felde was called to Bethlehem Lutheran Church in 2007.
After graduating from Christ Seminary–Seminex he was a missionary at Lake Kopiago and Birip in Papua New Guinea. He was pastor of Christus Victor Lutheran Church in Terre Haute, Indiana, from 1983-1987. While there he earned the degree Doctor of Ministry from the Lutheran School of Theology at Chicago.
He continued his studies and acquired a Ph.D. in Theology in 1995 from the University of Chicago. From 1990-1996 he served as Dean of Studies at Martin Luther Seminary in Papua New Guinea. From 1997-2007 he was pastor of St. Paul Lutheran Church in Olean, in rural southeastern Indiana. [more]
Deaconess Jody Winter
The Winter family joined Bethlehem in 2010, deciding together that this congregation was a good fit.  In 2011, Jody became the Director of Youth and Family Ministries while working through the education and formation processes to become an ELCA Deacon and an LDA Deaconess.  Upon completion of these studies, she was called as a full time Parish Deaconess in 2016.
Jody's background is in education and outdoor ministries. She loves working with all ages, from babies to those in their "golden years." The Parish Deaconess position allows her to be a part of many ministries at Bethlehem, including Sunday School, Youth Ministry, Stephen Ministry, visitations to members, taking communion to the homebound, women's programs, retreats, etc.
Karen Rider, Church Office Manager

Peter Rogahn, Precentor
Peter Rogahn, from Austin, Texas, enjoys an active career as an organist, pianist, choral conductor, and teacher. He holds a Master of Music degree from Indiana University.  [more]
Ellen Roberts, Nursery Coordinator

Jenna Beatty, Nursery Staff